Battle of Medway / Tocht naar Chatham 2017
The English: "Our most Glorious Defeat"
NL EVENEMENT: Herdenking, Nieuwe Kerk, Amsterdam
De herdenking van de bevrijding van 28 Hongaarse predikanten vindt plaats op zaterdag 18 februari, 16.30-19.00.
Inspirerende lezingen, kranslegging en bezoek in de crypt zorgen voor een respectvol evenement op deze indrukwekkende locatie. Het is mogelijk gebleken het programma in het Nederlands uit te voeren.
Aanmelden: email stichting@deruyter.org met naam & # personen.
UK/NL EVENT: Battle of Medway / Tocht naar Chatham
In June 2017, the 350th year since this battle took place, it will be commemorated in England ànd the Netherlands in a glorious way.
After a Grand opening many events will evolve: exhibitions, sailing events, demonstrations by both navies, rowing marines, an historical service in Rochester Cathedral, Dickens Festival, re-enactments, fireworks, all during the Dutch Week in and around the Dockyard Maritime Museum. Exhibitions and symposia in both countries. Just to much to mention here.
It promises to be a Glorious Event.
More information below, in the documents or via links to other sites.
Nieuwe Kerk, A'dam, 18 februari 2017
NEDERLANDSTALIG PROGRAMMA
De bevrijding van 28 predikanten wordt herdacht in het 500e jaar van de Reformatie.
Deze grote herdenking, zal, samen met enkele verrassende elementen, plaatsvinden op zaterdag 18 februari, de eerste dag van de tentoonstelling "Meesterwerk". Wij kunnen plaats bieden aan 300 gasten voor deze besloten herdenking.
Programma
16.30 inloop; €10, incl. drankje (no museumjaarkaart)
17.00 Opening: Vz. Stichting Michiel de Ruyter & Hongaarse ambassadeur
17.10 Lezing: "500 jaar Reformatie in 20min"
17.30 Lezing: "Ontberingen van de Hongaarse predikanten"
17.50 Kransleggingen door Stichting, Koninklijke Marine & Hongaarse ambassade
17.55 Openen crypt.
19.00 Einde programma
Aangezien wij kunnen beschikken over een tolk is het mogelijk geworden het programma in het Nederlands uit te voeren.
Aanmelden
Stuur een email naar stichting@deruyter.org met uw naam en het aantal personen in uw gezelschap. Bij entree wordt de opgegeven naam gevraagd als referentie.
Toegang kost u €10 ("Meesterwerk"), waarbij uw ons programma er bovenop bij krijgt. Uiteraard worden donaties aan onze Stichting op prijs gesteld. Museumjaarkaart is niet van toepassing.
Battle of Medway, UK June 8-17th 2017
Latest information on UK events. Join the conversation on Twitter #BoM350 or #TnC350.
8/6: A festive opening will be organized Thursday June 8th on the dockyards Museum area. More information to follow on the website of The Historic Dockyard Chatham.
Two "de Ruyter Memorial" sailing events, sponsored by Scheepvaart Museum, will be organized from the Navy Harbor in Flushing to muster on the Medway, followed by a spectacular entrance in Chatham. The first fleet arriving June 8th, the second fleet June 14th. Details in "Sail-in...Again". Many (sailing)contests will be organized for both fleets.

10/6: UK/NL Navy demo's & Dutch Marines Rowing Challenge, a team of former Dutch marines, will challenge the English Marines in a rowing event on the Medway. The finish line will be a floating chain.

11/6: This Sunday an historical service will be held in Rochester Cathedral. The service will also include the inauguration of the first mayor of the new city Medway. Music by the Breda Mens Choir and the Dutch Marines Band. Dickens Festival in Rochester 9-11th.
10-17/6: On the grounds of the Dockyard Museum and around the basins 1, 2 and 3 a Dutch Week will be held. Info: Medway Council.
17/6: Medway in Flames, re-enactment & fireworks as Grand finale of the Dutch Week over at Upnor Castle.
More activities listed in detail below.
Sail-in... Again
The "de Ruyter Memorial Zeiltocht", sponsored by Scheepvaart Museum, will be organized from the Navy Harbor in Flushing to muster on the Medway, followed by a spectacular entrance in Chatham.
Sailing contests on the Medway for both fleets during the week. Different classes can participate.
Since the capacity of Chatham, Gillingham and Rochester is limited, sequential visits are arranged. Available berths are blocked for other events or individual ships.
For every fleet a point of contact (POC) is available. Zeezeilschool Scheveningen has ships available for active passengers.
Fleet 1: 6/6 > 13/6 (with own ship, cruise or act passenger)
Cruise (& active passengers)
The Morgenster (background picture) and zeillogger Iris are scheduled to sail Scheveningen - Chatham vv and will be on location June 8-11. Morgenster will lead the Sail-in. Limited number of passengers is 24/10 (more in Spartan conditions...)
Zeezeilschool Scheveningen has 4 ships available for +/- 4 active passengers.
Fleet 2: 12/6 > 18/6 (with own ship)
Situation

Four separate locations are available for berthing: alongside, on moorings, behind locks or even bottoming at low tide.
These locations are: Chatham Marina, Upnor Sailing Club, Medway Yacht Club and Gillingham Marina. Each has its own specifications which will be shared separately on request.
Jet Stream Tours will provide a shuttle-boat and boat-taxi. On land busses will routinely pass these marinas during the event.
Historic journey
Historizon organizes an "overland" journey to Chatham. See document below.
Please contact relevant POC directly for further information.
Crossing the Chain
Rowing
Dutch Marines Rowing Challenge, a team of former Dutch marines, will challenge the English Marines in a rowing event on the Medway.
Dutch dredger Van Oord supports this race by designing a floating "chain" that will act as finish line.
Other parties can participate by signing up via stichting@deruyter.org.
Jewellery
The Jewellery & Silversmithing Department at the
University
for the Creative Arts in Rochester are planning to re-imagine the Chain Across the Medway as a celebration of
hand skills
,
community
,
collaboration
and
connection.
300 yards long and together with Dutch schools. See document.
History
Admiral Holmes executed a brutal attack on the island of West-Terschelling in August 1666, sinking 150+ merchant vessels and destroying half the island and its inhabitants. States Pensionary Johan de Witt wanted to retaliate by taking up an old plan to invade London by sailing up the Thames. This plan was to be executed just months after the plague and a fire had devastated the City.
Admiral of the Fleet Michiel Adriaenszoon de Ruyter (Immensi Tremor Oceani: Great Terror of the Oceans) advised him on a slightly different plan. He knew the English fleet would be at anchor and unguarded in the Thames estuary: the River Medway.
De Ruyter sails his ships to Upnor Castle where one of his captains, Jan van Brakel, breaks through a chain across the river. It is still a mystery how he accomplished this historic feat: either by sinking the floating barges the chain was resting on or using Marines to unlock one side. An investigation into the precise location of this chain is still underway in the British Admiralty Archives. Dutch Archives were burned in the 19th century.
Rowing was the primary means of getting the huge ships up the river Medway. Against current, tide and wind the ships were not able to sail to Chatham unassisted. By rowing the anchors to the maximum length of their chains, dropping them and hauling them in while pulling the fregates with rowboats at the same time it took the fleet more than a week form Sheerness to Upnor Castle.
After dredging parts of the River Medway with the help of local pilots (the Dutch paid them) a large part of the fleet was able to get close to Chatham. The fleet passes some ships sunk by the English to block his passage and take two ships, Unity and the flagship Royal Charles, back to the Netherlands. During the final battle at Upnor Castle the first 50 Dutch casualties resulted in a retreat to the Thames estuary. De Ruyter concluded that there was no use in overstaying his visit after destroying the combined English fleet and taking Unity and Royal Charles as loot to the Netherlands. The stern-piece of the latter can still be seen in the Rijksmuseum.
The rest of the English fleet is totally destroyed. It turns out the English navy will, after this rejuvenation, lay the foundation for its supremacy in years to come. (Benedictio In Dissimulant: good comes from setback)
The Battle of Medway sets in motion the end of the Second AngloDutch War and a, for the Dutch favorable, peace treaty is signed in Breda shortly afterwards. Sovereignty is guaranteed for the Dutch.
The English still call this "our most glorious defeat".
The Breda peace treaty was signed a month later. This will be remembered next year too. Stichting Thematische Concerten organizes the festivities on August 24th.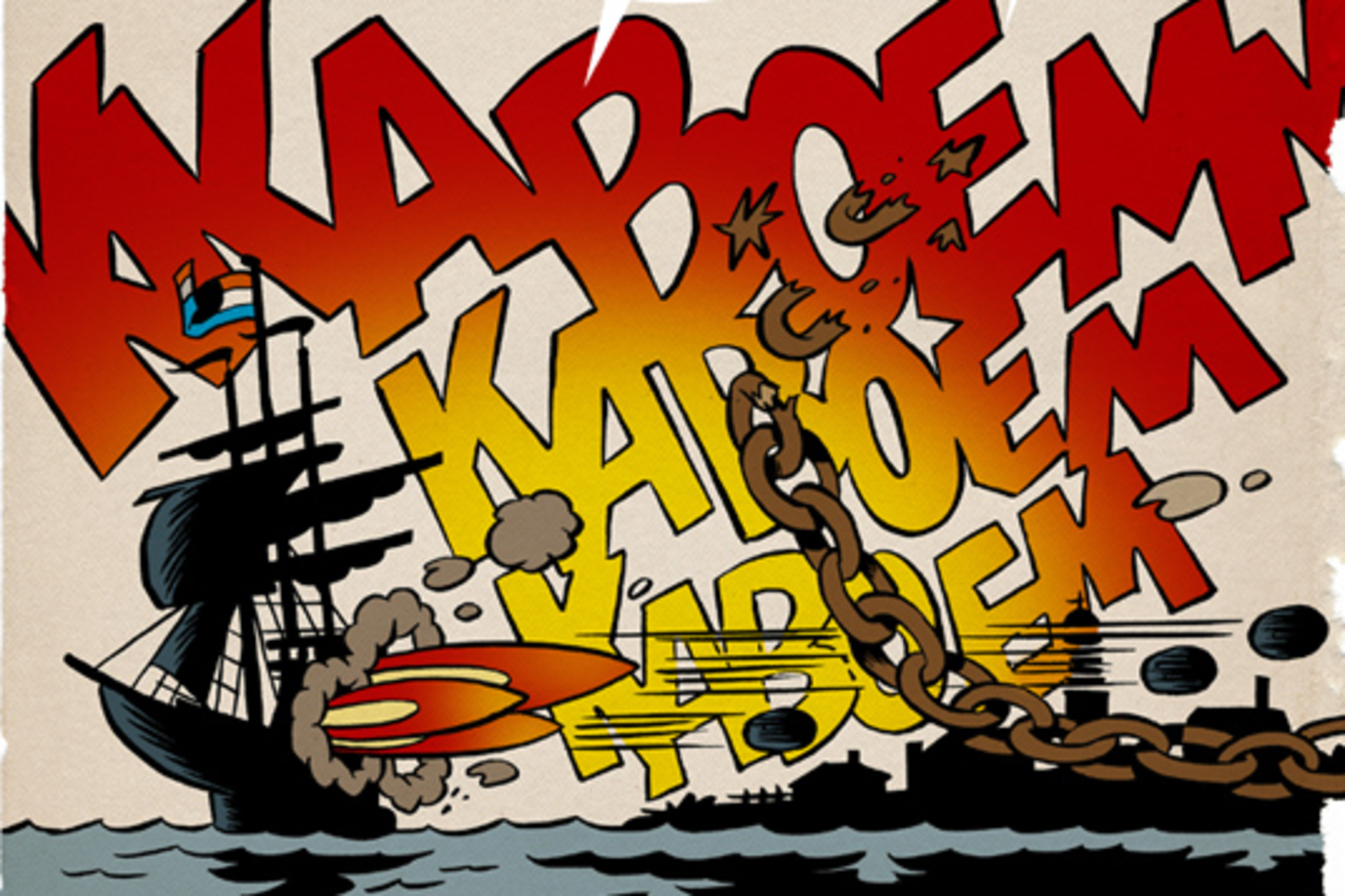 Sponsor Education
Sponsor our initiative to develop a comic book about the events leading to, the execution of and the resulting peace treaty in Breda after the Battle of Medway. The heritage foundation Michiel de Ruyter took this initiative with publisher Strip2000.
Due in the spring of 2017 this album will have a role in the educational program of Rijksmuseum and Dockyards museum. The participating classes in both countries can look forward to a challenging competition with a surprising prize.
Those who want to pre-order the comic go to: www.strip2000.nl/chatham (all profits of pre-orders go to our Foundation)
If you want to participate in this project as a sponsor please contact us through stichting@deruyter.org
We have many options including putting your logo on the "sponsor page", special VIP treatment or custom deals to your liking.
Help us realize this initiative!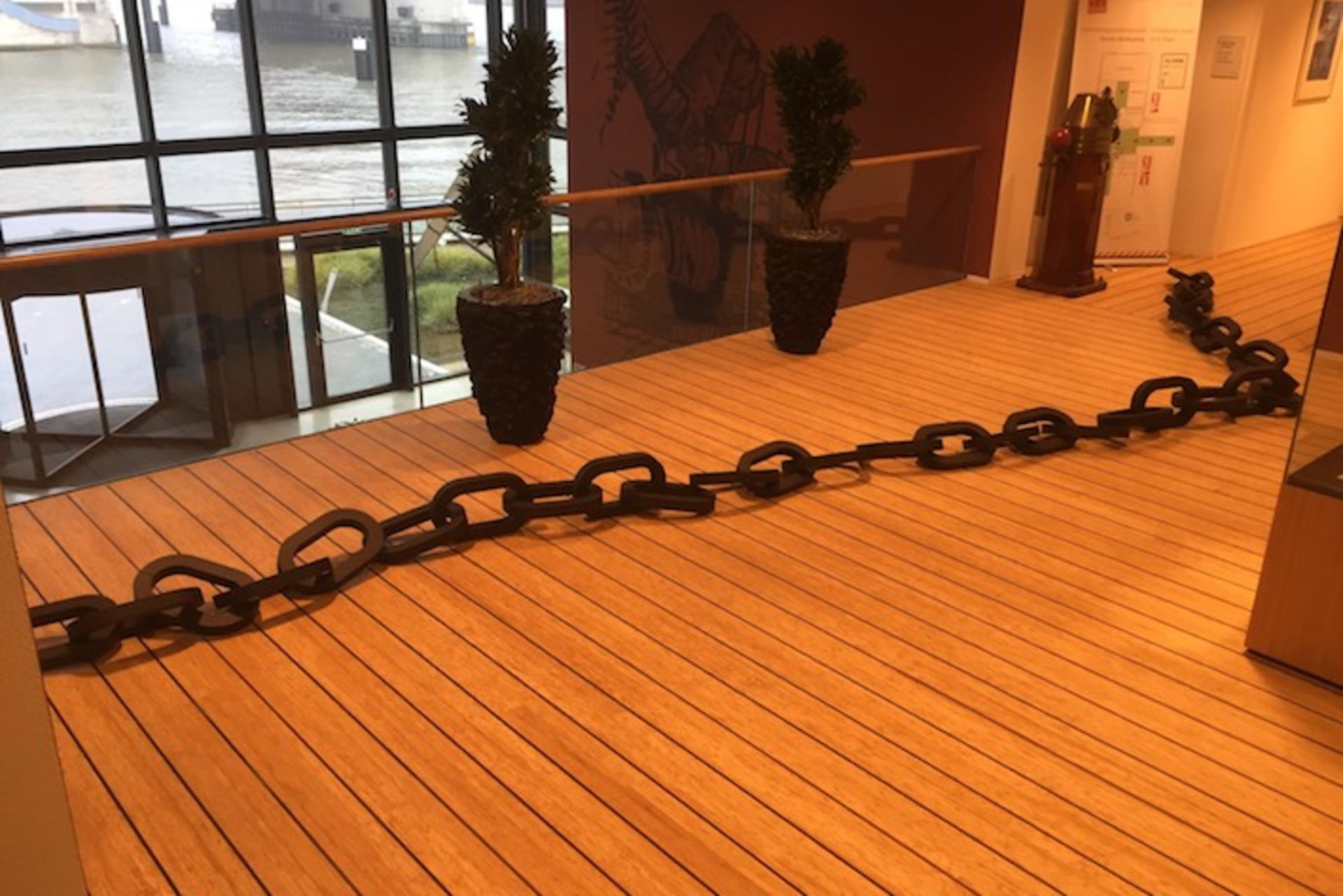 What's our Stake?
The Foundation participates
The "Stichting Michiel de Ruyter" is closely involved in the organization of the events in England and the Netherlands. We hold a coordinating role in close cooperation with the English and Dutch organizations, such as musea and governments.
The design of a commemoration coin, development of a comic book and general planning are the responsibility of the Foundation itself.
Interested in a lecture? Contact us for details.
Want to stay in the loop?
Visit our full site by following the link in the top right corner of this page "naar volledige website" and subscribe to our newsletter. We will keep you informed on a regular basis of all the events organized by our Foundation and especially the Chatham 350 commemoration in 2017.
Promoting Dutch products
Are you a typical Dutch entrepreneur with a typical Dutch product that has a relation to this event? Contact us and see if we can help you get your products in England for the Dutch Week.
Make Chatham unforgettable

Through your support the Foundation Michiel de Ruyter can bring the cultural heritage of the Battle of Medway (Tocht naar Chatham) to the attention of the general public. By our actions and initiatives we hope to make a larger population enthusiastic about our history and the lessons it holds for the present. The comic book, lectures at schools and commemorations we organize are made possible by your contributions.
Please help us realize those goals by donating to our "culturele ANBI Stichting".
Do you want to donate?
Ask for a meeting with one of our board members for any special requests or donate directly to:
Stichting Michiel de Ruyter, 
NL30ABNA0642367582 ref Chatham350

Use the link in the heading or the button on this page.
The Foundation is a "Culturele ANBI". Check local tax rulings for the advantages.
Stripboek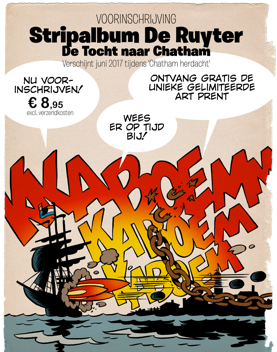 Speciaal voor deze herdenking wordt een stripboek gemaakt. Dit stripboek zal centraal staan in het educatieve programma van zowel het Rijksmuseum als de Dockyards in Chatham en wordt in het Nederlands en Engels uitgebracht. U kunt deze productie steunen of u op voorhand aanmelden voor een exemplaar via uitgeverij Strip2000
Reserveren